Making a Difference. Every day.
MPD is a special place where a collection of officers from diverse backgrounds come together as colleagues and friends to ensure the safety and security of the residents and visitors of our nation's capital.
Here, "community policing" are not just buzzwords — instead, it is the foundational model we follow every day. Our men and women in uniform know our communities and are invested in our neighborhoods — many live here, some grew up here — and all are dedicated to our mission to serve and protect those who call DC home and those who are passing through.
At MPD, we understand that DC is more than just the nation's capital. The District is a world-class city with a dynamic mix of residents from native Washingtonians, students, commuters, tourists and business travelers. It is a complex public safety environment where dedication and excellence are demanded of our officers, and they meet that high bar every day.
Community
Washington, DC is a unique city and one of the most visited — and visible — cities in the world. To be a police officer here is to witness history. Every day, since 1861, we have answered calls for help, which can range from safety checks to saving lives.
The MPD has the unique distinction of serving a local role on a national stage, giving us many regional and federal partners, including: the US Capitol Police, US Park Police, the FBI and more. At the center of this world stage are more than 700,000 people who make their homes in the District's eight neighborhood wards. It is in these communities where our officers serve and protect every day.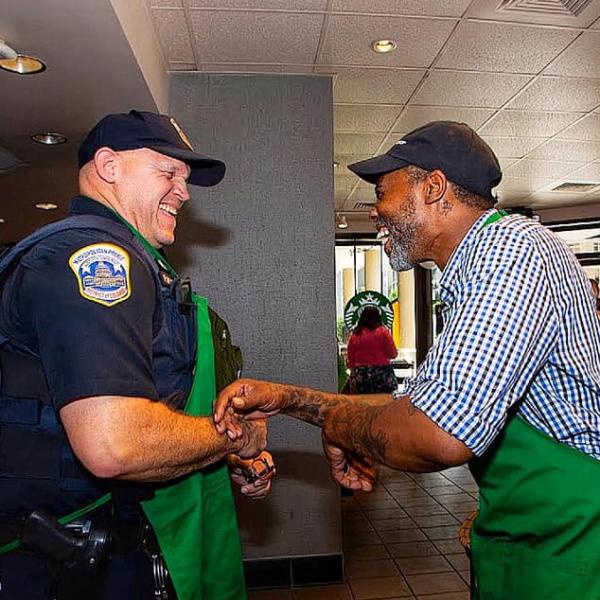 Diversity
Another reason MPD is a great workplace is because of our commitment to diversity and inclusion. Washington, DC is a rich mosaic of people from varying backgrounds and cultures — and our force reflects the communities we serve.
Like this great city, MPD has a diverse workforce and maintains a diverse leadership structure throughout the organization.
Fulfilling the mission of the Metropolitan Police Department requires a variety of individuals who are not only interested in serving, but who also have unique skills, perspectives and strengths that are critical in policing.
By maintaining a workforce that is diverse and all-inclusive, MPD will continue to provide the District with the best possible response to community issues.
MPD's sworn force is currently comprised of approximately 23% women - which is nearly twice the national average. In an effort to further the recruitment, retention and promotion of women in policing, MPD submitted a letter of intent to participate in the 30x30 pledge in November 2021. The ultimate goal of this national campaign is to increase the representation of women in police recruit classes to 30% by 2030 and to ensure police policies and culture intentionally support the success of qualified women officers throughout their careers.
LGBTQIA+
Members of MPD represent the diverse community we serve. Many MPD officers openly identify as members of the LGBTQIA+ community themselves – while many others are supportive allies. MPD is a safe workplace – where members feel comfortable being who they are without fear of being treated differently. MPD works diligently to serve a variety of historically underserved communities, including the LGBTQIA+ community. Learn more about the work of the MPD's Special Liaison Branch (SLB) here.


Culture
MPD continually strives to be the police force for which current and prospective officers want to work. From law enforcement to civilian staff and volunteers, mutual respect, teamwork, diversity and camaraderie define our culture.
Additionally, MPD's support extends beyond the job. We keep morale high with competitive pay and benefits that include tuition reimbursement, rental assistance, fitness centers and paid family leave. Good morale benefits the community and our officers are proud to wear the MPD uniform and serve.
Training and Equipment
At MPD, we understand that results reflect the training that is put in by our officers and the tools made available to them. As the world becomes more technology-driven, so do we.
It is a priority to deploy the technology our force needs to complete the mission. From body-worn cameras to crime mapping to social media, our team has the tools necessary to do the job.
However, even the best equipment, gear and state-of-the-art technology is nothing without the right training. We expertly train our officers to be ever ready in body and mind to accept and respond to the daily challenges of the job, no matter what they may be called upon to do for their community.
In order to ensure that every one of our officers are ready to serve effectively in the nation's capital, all applicants must pass MPD's Physical Ability Test (PAT), specifically designed to test the applicant's ability to perform physical tasks that are essential to carrying out the duties and responsibilities of a police officer.
To learn more about MPD's Police Academy training, please visit this page.

Media